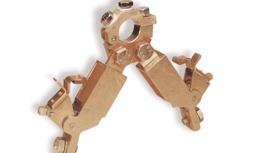 Schunk has developed several hundred different models of brush holders and rockers for use in generators and motors.
Schunk is one of the only suppliers in the world that can deliver nearly all kinds of hoders from stock or manufacture them at short notice.
Custom-made and specialized products are no problem for Schunk either.
See Brush Holder Types and Plug-in Brush Holders by Schunk.