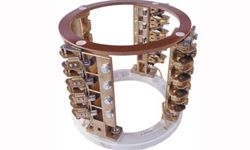 We offer fully or partially assembled brush rockers to reduce assembly time and costs for electrical machinery manufacturers.
Schunk manufactures these brush rockers in a wide variety of designs according to your needs, depending on the type of electrical machinery and the demands placed on them.
All components are aligned on appropriate assembly jigs to ensure that the brush works flawlessly with the commutator or slip ring.