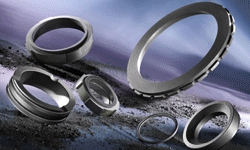 We offer wide range of bearing materials for seals, pumps, plain bearings and compressors.
Our graphite and carbon graphite materials feature the following characteristic properties:
Low friction coefficients.
High wear resistance.
Excellent sliding properties in wet and dry operation.
Comprehensive chemical resistance.
High temperature resistance.
Good thermal conductivity.
Outstanding thermal shock resistance.
Excellent dimensional stability.
High fatigue strength.
More information on Bearings and Seal Rings
Other products:
Carbon Vanes.
Pump Components.
Chemical Resistant Carbon and SiC.
Sleeves.
Structural parts.
Friction rings.
Pistons.
Schunk Tribology is highly experienced in sliding materials for bearings, pumps and compressors as well as in hard and soft sliding combinations and mating materials.
Highly wear-resistant bearing rings and seal rings made of carbon, graphite and silicon carbide are developed for applications with highest requirements.
They perform outstandingly in the plants and machines of the chemical and petrochemical industry, as well as in automotive, HVAC and power plant engineering and the pharmaceutical and food industry.