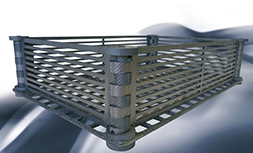 With Uni GridTM Schunk offers customized fixturing systems and standardized solution for C/C-grids.
The positive properties of C/C such as low density, high strength, low thermal expansion allow slimmer fixturing systems construction and increase cost effectiveness through:
Increased capacity, with a higher quantity of parts per cycle.
Automation, with every part remaining in position.
Energy savings, with lower energy consumption by the total weight.
Shorter cycle times, allowing the process to be optimized.
Distortion-free charging racks, reducing post-processing.
Customized fixturing systems
The use of carbon fiber composite (carbon fiber reinforced carbon) fixturing systems for vacuum and inert gas furnaces is a step towards higher productivity.
Schunk produces both interlocked and water jet cut carbon fiber reinforced carbon (CFC) grids.
We offer you the option of siliconizing fixturing systems for lower wear in applications with special requirements.
We would be happy to work with you to develop a fixturing systems that is specially designed to your needs.
More about CFC grids